Jessica aka
"The Hussy"
(she's pretty much famous) does this thing on
her family blog
where she uploads pictures from her phone every Tuesday, and invites her readers to do the same and link in. Jessica's like the popular girl in the blogging community that everyone wants to be friends with. She is absolutely hilarious, gorgeous, and has
five
kids.
Crazy.
I think the closest I'm going to get is that I'm friends with Mica Martin and Ira Heinzen. I still haven't figured out how they're related to Jessica, but anyway...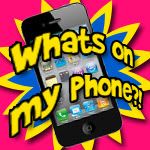 Harper in distress after wrapping
himself
in Christmas decorations.
My little munchkins at Costco.
People keep asking me if they're twins. They're 18 months apart, folks.
Landon asked me to draw a picture of him and Harper.
I scribbled this on a piece of nearby mail, and actually thought it turned out pretty dang good.
I found a website that you can use to try on celebrity styles, and then texted this to Anthony. I didn't realize he would think I had actually dyed my hair. Needless to say, he was very disappointed when he got home to find I was still boring brunette. Poor guy.
When I say Landon hardly stops moving, I mean it.
This is the closest I could get to an individual snapshot.
Smooching the manchild. He just loves when I do that.
Ladies can't resist him. Sorry, Kitkat. He's mine.